Jurassic World: Dominion Dominates Fandom Wikis - The Loop
Play Sound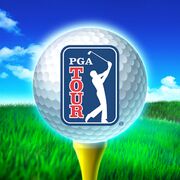 PGA TOUR Golf Shootout is a free-to-play arcade-style mobile golf game for iOS and Android devices. The game is an officially licensed product of the PGA TOUR and is developed by Concrete Software in association with GameMill Entertainment. After a brief soft launch period on Google Play, the game was initially released on both its platforms on April 17, 2019.
The current release of PGA TOUR Golf Shootout is version 2.2.0, released to players on June 21, 2020. This update includes new tournament types, improvements to Clubhouse Challenge progress, and improvements to inventory and bag management.
The latest version of the game can always be found on the App Store or Google Play.
Gameplay
PGA TOUR Golf Shootout is an arcade-style golf game. It features a degree of real-world accuracy but does not intend to be a simulator. The gameplay and on-course physics lean towards an easy learning curve for new players and quick matches.
Choosing Clubs
Before a match, players choose up to five of 51 collectible clubs of different types and fictional brands to put into a bag. These clubs have stats that determine their performance on the course, as well as special abilities. Players use these bags to play rounds of golf on holes based on real-world Tournament Players Club courses.
Players take a single bag onto a hole, leaving them with a choice of one of their five clubs for every shot on the hole. Clubs cannot be switched out while in a match.
Hitting the Ball
To hit the golf ball, players touch and drag on the screen to determine the power of their shot, or the distance it will travel. Each club in the game has an optimal range for its given power stat, but players can choose to "overpower" their shot for more distance at the expense of accuracy by dragging further on the screen.
While "holding" the ball to determine shot power, the player can aim where the ball will go on the hole by dragging around. The player sees a shot preview arc in the sky showing the intended path of the the ball flight and a circular accuracy indicator on the ground, showing roughly where the ball will land if hit accurately.
During aiming, a swing meter appears on the screen with a sweeping arrow moving back and forth. When the player lets go of the screen, the ball will be launched according to the intended power with an accuracy determined by how close the swing meter is to the center. The swing meter moves slower and more steadily the higher a club's control stat is, making it much easier to hit the center for a perfect shot.
Hole Performance
As in real-world golf, players are judged based on their performance based on how many strokes they take on a hole. Each hole has a par, or number of strokes allotted to getting the ball in the hole from the tee. Holes may be a par 3, par 4, or par 5.
In the main Play mode of the game, players receive rewards or penalties depending on their final hole performance. Winning against another player grants FedExCup rank points, coins (the game's basic currency), and a card pack if the player has an open slot available. A tie grants coins and a tie token, increasing the chances of getting a free upgrade to a better pack. Losing earns no currency and causes a player to lose FedExCup rank points.
Beating par on a hole by getting a birdie, eagle, albatross, or hole in one grants additional rewards beyond the regular rewards for winning.
Match Types
Players can play solo or compete against other players in a variety of match types that follow a similar rule set. These match types include:
Solo challenges where the player attempts to complete a hole or series of holes with certain special conditions for winning, such as high wind, low gravity, using only a particular subset of clubs, or getting a target score.
Free play modes for each of the four TPC courses are unlocked as players complete the list of in-game solo challenges. This allows players to play any hole they want with no special conditions or restrictions, for practice or just for fun.
Play mode is the primary gameplay type. This matches a player asynchronously against a prerecorded previous hole performance of another player. The player's performance in this match may be recorded and go into the pool of matches available for other players to play against. Play mode is the only match type that affects a players FedExCup rank.
Daily challenges are similar to solo challenges, but refresh randomly each day and never run out. A player competes on their own to finish a hole with a certain criteria, such as score or hitting targets, and receives a random card pack as a reward.
Tournaments are structured events that pit up to 100 players against each other based on their performance on a predetermined series of holes that may or may not have special conditions present. A player plays through the series of holes on their own, and their final accumulated performance across all the holes is measured by both score and time taken against all the other players on the leaderboard. Tournaments are active for a predetermined length of time, and after they are over, players are rewarded based on their final leaderboard position.
Players may issue challenges directly to another member of their Clubhouse. By issuing a challenge, a player records a performance on a hole and the challenged player is notified. The other player may then choose to accept the challenge and records their performance on the same hole with the same conditions. Then, both players are notified of the final match result and coins are awarded to the winning player. No rewards are given to either player in the case of a tie.
Economy
PGA TOUR Golf Shootout is highly focused on collecting new clubs and upgrading those clubs to perform better on courses, allowing players to move up the FedExCup ranks and win in-game tournaments easier and more reliably. Nearly every aspect of the in-game economy and progression revolves around clubs, the cards players earn to upgrade them, and the packs those cards come in.
Card packs are earned through a variety of means, including winning games in Play mode, completing solo and daily challenges, and buying them outright from the Pro Shop, the in-game store. Packs come in different qualities that determine how much currency and how many club cards they contain, as well as the rarity distribution of those cards.
As with many free-to-play titles, the game has multiple currencies: the "basic" currency of coins, and the "premium" currency of gold.
Coins are used to upgrade clubs and purchase rotating lots of cards from the Pro Shop. Coins are earned as rewards for winning in Play mode, found in packs, and given as rewards for other in-game activities such as winning tournaments or completing a hole under par. Packs of coins can also be purchased from the Pro Shop.
Gold is also earned from packs, but in a much lower quantity than coins. Gold can be earned as prizes for placing highly in a tournament, as a reward for weekly Clubhouse challenges, or for getting an albatross or hole in one in a match. Gold can also be purchased with real money from the Pro Shop.
Other in-app purchases include bundles in the Pro Shop that can contain a variety of items, including predetermined club cards, packs of coins or gold, or player avatars. There are many bundles available in the game, but not all are available for purchase at all times. These bundles have a chance to rotate into the Pro Shop on a daily basis.
Screenshots
The gallery below contains a sampling of screenshots from the game. Click or tap on an image thumbnail to see it full size.
Videos
Click or tap the video below to watch gameplay capture of a full match in Play mode.
 	 	   

External Links